Home page » Production » Firefighting trucks » AZ 8,0-90 KAMAZ 65111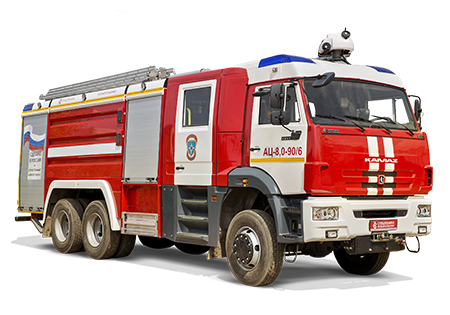 FIRE-FIGHTING TANKER AZ 8,0-90/6
Firefighting tanker of heavy-duty class on cross-country chassis. Designed to extinguish large fires when water sources are inaccessible or where an increased fire hazard exists: industrial facilities, oil-refineries and petrochemical plants.
FEATURES
Rotary fire pump NH55 made of light alloy materials. Water heating system for wintertime, and protection against engine overheating during long continuous operation of the pump.

Fire water monitor on top of the cabin 2500 l/min capacity at 10 bar.

Water tank and foam tank with plastic thermal insulation, reinforced with fiberglass, which guarantees long service life, light weight and superior structural strength. Equipped with an overflow control system and electronic level indicator.

The water tank is suitable for transporting potable water. Foam tank is suitable for transporting all types of synthetic and protein foaming agents.

Automatic foam mixing system excludes any losses and foam generating agent overrun.
ТЕХНИЧЕСКИЕ ХАРАКТЕРИСТИКИ
Base chassis
KAMAZ 65111
Wheel arrangement
6х6
Crew
2+4
Wheel base
4100+1320 mm
Vehicle gross weight, no more
25 200 kg
Engine
Cummins ISLe-C375 turbodiesel
Engine power
268 kW at 2,100 rpm
Emission class
Euro 4
Fuel tank
260 l
Gearbox
Manual transmission, 16-speed ZF 16 S- 1822 TA
PTO
clutch independent ZF, model NMV 221
Overall length
10 000 mm
Overall width
2500 mm
Overall height in transport position
3670 mm
Vehicle tilt angle
front 25°
rear 18°
Road clearance
no less 380 mm
Water tank
8 000 l
Foam tank
500 l
Fire pump
N 55
Fire pump capacity
5500 l/min
Pump control system
automatic through electronic display
Foam mixing system
Fix Mix 3% или 6%
Reel with normal pressure hose
of length 60 m and nozzle RB-101
Stream capacity
6 l/s at 10 bar
Fire water monitor on the roof
RM25C
Capacity
Up to 2,500 l/min at pressure 10 bar
Angle of rotation:
in horizontal direction: up to 270°
in vertical direction: 90° (from -20° to +70°)
Jet reach
up to 70 m
FIRE WATER MONITOR
Type
RM 25 C
Location
on the roof
Material
light metal
Lifting mechanism
lift to the height of 450 mm
Nozzle
HSD 2500
Full capacity
2,500 liters/min at 10 bar
Reduced capacity
1,250 liters/min at 10 bar
Jet reach
about 70 m at full capacity
Control
control knob in the driver's cabin or manual control on the vehicle roof
Control equipment
CAS-bus system (programmable control with memory unit)
Angle of rotation of fire water monitor
Vertical: - 20 ° to +70 °
Horizontal: 270 °
REEL
Manufacturer and type
Haspel 06
Brakes
Friction brakes
Hose reeling on device
by hand crank, electric drive
Location
at rear part of the firefighting body above the pump
Manual monitor
NEPIRO-Ergo
Air-foam nozzle
high pressure nozzle (for heavy foam)
Capacity
200 l/min at 40 bar high pressure
Control
electro-pneumatic from pump remote control
Fitting
60 m, high pressure rubber hose DN 25
ELECTRICAL EQUIPMENT
One work light on the driver's cabin, and lighting fixtures in the roof and at the rear part of the firefighting truck. Remotely controlled from the cabin. Lights inside the cabin, in the pump compartment and equipment bays. Automatic activation when opening the doors or curtain doors.