Home page » Production » Firefighting trucks » AZ 3,2-40/4 KAMAZ 5387 4х4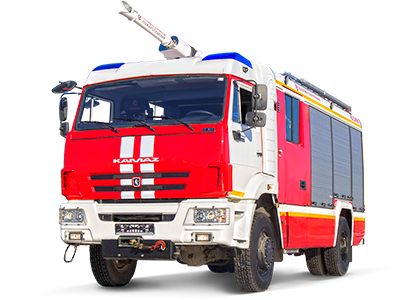 FIRE-FIGHTING TANKER AZ 3,2-40/4 BASED ON KAMAZ 5387 4х4 CHASSIS
AZ 3,2-40/4 based on KAMAZ 5387 4х4 chassis is designed to deliver crews, fire extinguishing agents, rescue tools, firefighting and other technical equipment to the site of fire.
Advantages of AZ 3,2-40/4 based on KAMAZ 5387 4х4 chassis
AWD ensures the required off-road performance and steerability under poor road conditions and in wintertime.

Firefighting body control (fire pump, fire water monitor, steps and handrails, rotating lights, etc.) is carried out remotely by the driver from the crew's cabin and pump compartment through an electronic control system (LCS).

To work with removable manual ladders and suction hoses, there are devices for lowering and fixing ladders and suction hoses.

The NH25/N25 combined rotary fire pump is installed on the tanker with FIX-MIX automatic foam mixing system complete with high pressure reel (60 m) and NEPIRO-ERGO high pressure fog nozzle. The pumping unit is equipped with a protective heat and noise insulating casing.

The water tank is made of polypropylene (or) fiberglass to prevent corrosion and ensure long service life. The foam tank may be used for storing and transporting all types of foam generating agents.

The fire water monitor RM 24M with manual controls or RM 25E with remote control system can be mounted on the roof of tanker truck. The fire water monitors capacity is 40 l/s at the pumping pressure of 10 bar. Effective range of water stream is 70 meters.

Design features and performance specifications of AZ 3,2-40/4 (5387) correspond to the characteristics of AZ 3,2-40/4 (43253), except for chassis specification and vehicle engine type.
On-the-road test of AZ 3,2 based on KAMAZ 5387 chassis
MAIN CHARACTERISTICS
Base chassis
KAMAZ 5387 4х4
Wheel arrangement
4х4
Engine type
Cummins 6 ISBe 340, Euro 4
Engine power
340 hp (250 kW)
Number of seats for the crew
6
Water tank capacity
3200 liters
Foam tank capacity
200 liters
Fire pump
NH30
Pumping capacity
46.7 l/s at 10 atm,
when high pressure section operates –
4.2 l/s at 40 atm
Gross weight
15,500 kg